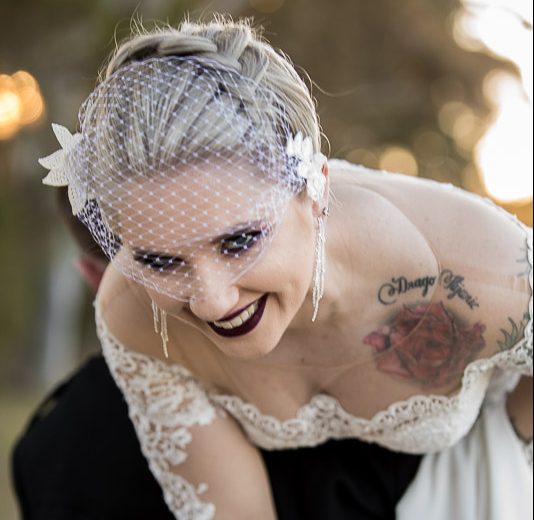 Melissa and Alan had a really unique story with how they met and even how Alan proposed. They met at a mutual friends 21st, Mel says that Alan was following her around, whereas Alan insists that he wasn't. Whatever the case some time after being together Alan thought it was time to propose. He arranged for Mel and himself to go and see some Alaskan Malamute puppies at a nearby breeder.
It was very much a surprise for Mel, going to see the puppies and when she cuddled up to one particular puppie – she noticed that on it's collar it said "will you marry me". She immediately turned around and saw Alan down on one knee.
For Mel and Alan, family and heritage was an important part of what they wanted to include in their wedding day. From the celtic tradition of "tying the knot", to pinning rosemary to guests before the reception.
The ceremony, had a great vibe with equal parts sentiment and laughs, that was beautifully officiated by Jessica Edwards.
The beautiful venue of
"Stillwater at Critenden"
served as a magnificent backdrop to a very fun and happy event that was blessed with fantastic weather for the day and made for some really great light for wedding video and photography. as you can see in the photo's.
During the reception, we had some really original and funny speeches which had the room in stitches and later when it came time for the first dance. Mel and Alan chose to do something really unique whereby members of their family, fathers and mothers followed by the bridal party slowly one by one came to join them on the dance floor.
Mel and Alan really had a unique vision for their wedding, everything from Mel's bridal style and flowers to Alan's homage of wearing a kilt. It really was a great day.